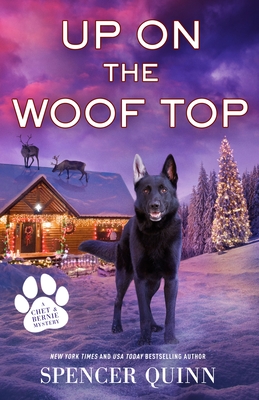 New Book Highlight: December
Up on the Woof Top by Spencer Quinn
Chet the dog, "the most lovable narrator in all of crime fiction" ( Boston Globe ) and his human partner Bernie Little find themselves high in the mountains this holiday season to help Dame Ariadne Carlisle, a renowned author of bestselling Christmas mysteries, find Rudy, her lead reindeer and good luck charm, who has gone missing.
At Kringle Ranch, Dame Ariadne's expansive mountain spread, Chet discovers that he is not fond of reindeer. But the case turns out to be about much more than reindeer after Dame Ariadne's personal assistant takes a long fall into Devil's Purse, a deep mountain gorge. When our duo discovers that someone very close to Dame Ariadne was murdered in that same spot decades earlier, they start looking into that long ago unsolved crime.
But as they reach into the past, the past is also reaching out for them. Can they unlock the secrets of Dame Ariadne's life before they too end up at the bottom of the gorge? Is Rudy somehow the key?
Up on the Woof Top is a brand-new holiday adventure in Spencer Quinn's delightful New York Times and USA Today bestselling series that the Los Angeles Times called "nothing short of masterful."